> Route - Now updated!
The map to the right is linked to country close-up pages. I can only apologise for leaving this page for so long - hopefully it can now become a useful resource. Due to issues of copyright and bandwidth, I will be using rather cartoony original maps, and the CIA world series. This enables quicker load times. If you want more detailed maps for planning, the Michelin series are recommended. For detailed desert driving, use Tactical Pilotage charts, Second World War surveys, or the Russian series. Some CIA maps are also available.
Itinerary
Summary
I left London, to return 4 months later after completely circumnavigating the Mediterranean Basin. This will be achieved by travelling via France, Tunisia, NOT Libya, Egypt, Jordan, Syria, Turkey, Greece, Croatia, Bosnia, Austria, Germany and Holland. The route is subject to change.

Back to top.
France

The road from London to Marseille. My Dad came with me on his brilliant F650. If you decide to be bored at 140km/h, you will be. If you decide to chill out and enjoy the scenery, it's wonderful to travel relatively slowly. We camped a bit, but motels and small hostels are really cheap, and for some of the time it was throwing it down with rain. For the boat, I bought my ticket over the counter in Marseille for about €300 one way (ouch!), including a solo cabin. They told me pre-books are the same price. No paperwork possible on the boat - it was the one they normally use for the Corsica run (the Ile de Beaute).

More info & pictures.
Back to top.
Tunisia

No visa required, and I could even use my European bike insurance with a Green Card. Only problem was that my insurer wouldn't give me one. Five hours in customs and a search of the bike - as always, good humour and a pot of coffee and everything went smoothly. You now need a GPS license (mine was hidden but they saw the TTech mount and asked me directly where it was) and they note the model and serial number on a special passport stamp. One person told me this was to prevent people from having illegal excursions into Algeria via the south, but another (more likely) explanation is that the government want to stem to flow of black market nav gear entering the country and protect their import tax revenue.

More info & pictures.
Back to top.
Libya - Why bother to even try?
Hassle with paperwork (see here), involving invitations, translations, daily guides and border formalities - typically $100/day on a bike. A month of waiting for my visa in southern Tunisia (after applying in London and being the victim of "immigration delays"). Today I decided to forget it. I met a Canadian who was a day late arriving at the frontier and they wouldn't let him in. They wouldn't reissue his visa, except "perhaps in Canada". He decided to leave Africa altogether.

Back to top.
Egypt

Change of plan here, thanks to the Colonel. I will arrive on Monday 12th July at Cairo Internaional Airport. The bike will be waiting for me, having been shipped from Tunis the previous morning. After fifty years of trying to extract the bike from customs I will tour the Nile Delta as far as Aswan. I want to travel the Siwa piste, and check out some other bits and pieces too. More news as I get it.

Back to top.
Jordan

Crossing the Red Sea via the small ferry at B'ir Tãbã - Al'Aquaba, we will enter Jordan and bypass the town of Ma'An, passing through to Syria via Al-Mafraq.

Back to top.
Syria

Syria via Al-Mafraq. As-Suwaydã provides a stopover in the Syrian Desert before continuing north through Aleppo to Turkey via the border control at Kilis.

Back to top.
Turkey

A stopover in Istanbul (after following a route through Konya and Ayfun) provides an opportunity to perform more maintenance before returning home.

Back to top.
Bulgaria

I'd be lying if I said I wasn't a little nervous about Bulgaria. Rumours and FCO advice suggest that it's a bit dodgy, in the lawless sense.

Back to top.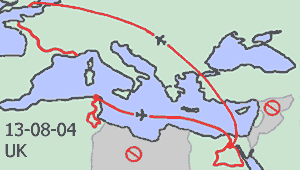 *ROUTE & ROAD NEWS*
The task of pricing x-channel ferries has begun in earnest.
Which raises the interesting question of MotoRail from Paris to Nice >> DISASTER! The MotoRail service at RailEurope is only available from May -September. It looks like the specialiasts at RailSavers will be able to help though. Ashford (Kent, UK) to Nice, via Paris comes in at £306 including the EuroTunnel fare. Not bad. I will confirm these prices (and availability) soon.
Having looked into the Marseille boat, I won;t be on it...
As it seems the Genoa crossing is almost 30% cheaper for motorcycles, as well as being a Tunisian boat (which is a good thing). According to several reliable sources it is possible to do all of the touristic paperwork on the boat. Ferries leave Genoa at 18:00, Wednesday and Saturday. This is the place where I am planning to book.