> Links & Downloads
This is the part where I point to the most useful parts of the world wide web. There are other assorted odds and ends here too, such as some documents penned by me, and one from the Royal Geographical Society. I might add a bibliography of really good travel / motorcycle / Saharan books if I can find the time and someone asks for one.
Downloads and Data Area
Here you can download documents, maps and presentations relating to the project (including a large pdf of the route in detail). If I get time I will also post links to waypoint files and possibly even some sound recordings (as mp3s). Yay me.

* XR650L Fuel Spreadsheet, compiled by me [incomplete]
* Tunis Ferry Cost Spreadsheet, compiled by me [incomplete]
* Desert Expedition Advice, fromTom Sheppard / RGS (PDF)
* Proposed route between Tunis and Istanbul (PDF)
* Original Project Proposal Document (PDF)
* Risk Assessment Documentation for HSE and UCL (DOC). Scary reading, eh?
* British Embassies - the people I call when it all goes wrong.
Sponsors
Motorcycle Touring
* Riders for Health. A small (but growing) charity, for which I would love to generate publicity. If you want to support the Pan-Med project, you should donate a bit of cash here. Go on!
* Trails of the Unexpected. A normal guy heading down the Panamerican Highway, on an Africa Twin. Great site, great pics!
* The Honda XR650L User Group. A place for sharing experiences and discussing problems with the Electric Pig
* Ben Cope's brilliant VisorDown, serving the UK motorcycling community and providing me consistently good advice.
* Horizons Unlimited - a deep well of knowledge and home to a set of knowledgeable and well-travelled group of bikers - the overlander's bible and prayer group.
* Catch The Pig - The way a biking-to-South-Africa site should be. The site's full of great pictures taken by Geoff van de Merwe en-route.
* Jeremy Bullard, the Americas by KTM. The ever-engaging and amusing Jerome, currently riding through S.America. Some of the pics on this site are must-see. The former owner of my bike. :-)
* Adventure Motorcycling - replete with traveller's tales and tips and tricks. Chris Scott has done a great job of assembling the site, which is organised by destination and bike model - the bike I'm using is even featured! Check it out.
* ThumperTalk - a good place to start if you want tips & tricks for your four-stroke off road motorcycle. There are forums dedicated to the XR600/650 and Adventure Motorcycling.
* XRs Only A whole site devoted to the XR range of bikes (mostly the XR650R though). There is a detailed online shop and catalogue of performance parts. The Keihin FCR pumper carb kit is, apparently, a major performance upgrade.
* XR Stuff Like a smaller, homegrown version of XRs Only. Very helpful staff, good knowledge and lots of good products (although being a grey import, the off-the-shelf assistance for XR650L owners is a bit limited).
* Peak Cottages Direct Make your choice from 70 lovely cottages in and around the Peak District National Park in Derbyshire, UK. Good trail riding.
Libya
Egypt
Jordan
Syria
Turkey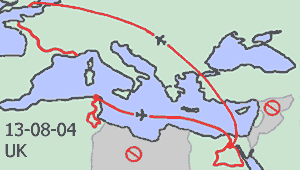 *PRODUCT AND SUPPORT NEWS*
Cyclone Couriers deliver the goods!
The best courier company in London has delivered a package of support (groan) to the project. They can supply you with everything from bicycles to large vans, and also offer an International and Executive Car service. Their website is a click away...
Airtight support from Aquapac.
Thanks to the kind people at Aquapac, who have supplied me with some of their products to evaluate in the field. They will be the reason my laptop doesn't die (apparently I can immerse it in 5m of water and it will be fine!) They will also prevent my ham-fistedness from destroying a PDA, phone and GPS. So far, the stuff looks to be top-quality and ideal for the Desert.
Bandit bikes to provide useful stuff (oil, chains, cakes, etc).
Not sure exactly what yet. These guys know their way round a bike though, and they've been good for me in times of stress (and expense!) The last fair bike shop in London?
EAC Wilderness Medical Training Course
The Expedition Advisory Centre of the Royal Geographical Society have been a source of well-researched advice and support for many jaunts abroad, in all sorts of difficult circumstances. I will attend their WMT course, during which I will learn the delights of self-suturing and setting up your own saline drip. What joy! Fingers crossed, I'll never need any of it...